Ross on Wye St Mary's, Herefordshire
Burgums and Burghams lived here, or nearby.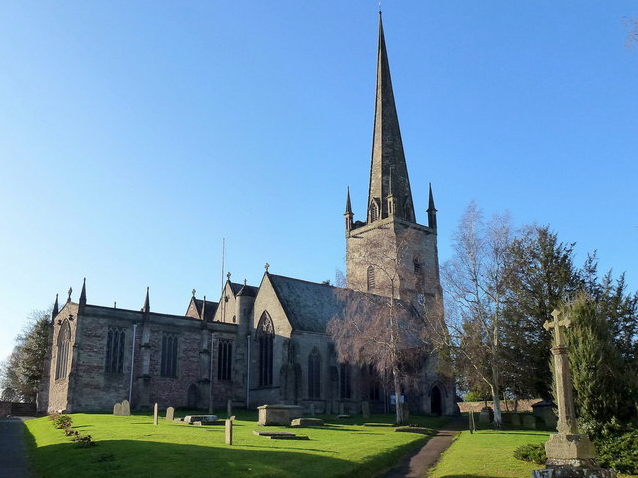 ROSS ON WYE ST MARY'S
is one of the largest churches in Herefordshire. It sits high up in the town and the spire can be seen from miles around. It was founded by Robert de Betun, Bishop of Hereford, in the 1200's and the existing church was dedicated to St Mary in 1316. It is believed a Saxon and Norman church stood here before the current building was constructed. The spire, 205 feet high, was built in the 1300's and rebuilt in 1721 when pinnacles were added. It was again repaired in 1852 following a lightening strike, then again in 1911, and in 1952.
The Plague Cross in the churchyard is a tragic reminder of the horrific plague ourbreak of 1637 when about 300 townsfolk died and were buried at night and without coffins.
The list below shows the baptisms, Marriages and Burials that took place at Ross on Wye.
| | | | | | | |
| --- | --- | --- | --- | --- | --- | --- |
| Name | Date | Location | BMD | Minister | Notes | FT |
| | | | | | | |
| Thomas Burgam | 27 Nov 1733 | Ross St Mary | Marriage | | m=Elizabeth Evans | |
| Thomas Bergum | 03 Jan 1743 | Ross St Mary | Baptism | | P=Thomas + Eliz. Bergum | |
| Sarah Burgam | 21 Nov 1760 | Ross St Mary | Marriage | Guy Hill | m=Robert Carson | |
| Elizabeth Burgum | 10 May 1796 | Ross St Mary | Burial | | | |
| Richard Burgam | 16 May 1797 | Ross St Mary | Marriage | John Taylor | m=Elizabeth Evans | |
| William Bargwin | 19 Nov 1832 | Ross St Mary | Baptism | T. Underwood | P=Samuel + Ann Bargwin | |
| Alfred Burgum | 04 Oct 1876 | Ross St Mary | Marriage | H.S. Reston | m=Mary Hale (nee Davies) | GG |
| Charlotte A. Burgam | 04 Oct 1891 | Ross St Mary | Baptism | A.N. Colley | P=Charles + Mary Burgam | |