The Brazilian Burgums
Published in Winter 2004/05, this article appeared in Volume 60 of the BFHS Journal.
The story of the Brazilian Burgums is complicated by two issues. The first issue is that two separate sections of the AA family tree moved to Brazil at different times. The two sections of the family were first cousins, once removed, but a closer examination shows the individuals concerned lived in close proximity to each other. The second problem is that several of the individuals were called Henry Burgum, making it easy to get confused!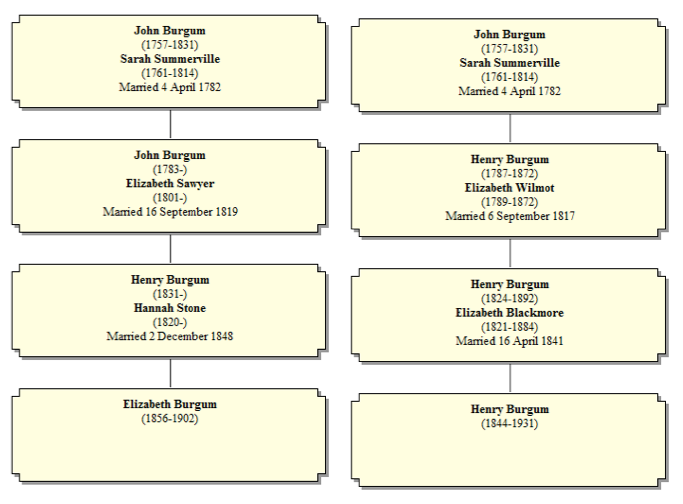 On the one hand we have Henry Burgum who was born near Bristol, in England, to John and Elizabeth (Sawyer) Burgum. He was christened at Wick and Abson, Gloucestershire, on 27th November 1831. The next we hear of Henry (1831) is in the 1841 census (CS1841-35). He is ten years old and living with his mother Elizabeth (Sawyer) Burgum and his brother Thomas Burgum (age 6) at Marsh Lane, St Philip, Bristol. There is no mention of his father John. It is worth noting that his uncle Henry Burgum (born 1787) is also living in Marsh Lane with his second wife Elizabeth (Wilmot) Burgum with three children Henry (born 1824), George (christened Thomas) and Charlotte. Living next door is John Burgum, son of Henry Burgum (1787) from his first marriage to Ann Burchell who had died in 1816. On 2nd December 1848 Henry (1831) gets married to Hannah Stone at Bristol. He was a minor, just 17 years old, while Hannah was considerably older (perhaps 28 years old). Henry (1831) was still residing at 4 Marsh Lane, Bristol, and working as a smith.
In the 1851 census (CS1851-02) Hannah is living at 4 Marsh Lane, Bristol, with her two children Emma (age 8) and John (age 3). Her husband's uncle Henry (1787) is living a few doors down the road at 10 Marsh Lane. So where is her husband Henry (1831)? He is at 22 Stevenson Street, West Ham, Essex, on the outskirts of London, (CS1851-53) visiting his cousin Henry Burgum (1824). Cousin Henry has married Elizabeth Blackmore and they have four children living with them - Jane (age 8), Henry (age 6, born 1844), Emily (age 3) and Hannah (aged 1 month).
Below - The Rio de Janeiro Navy Arsenal, Brazil
Bottom left - The Ironclad Sete de Setembro
Bottom right - Construction of the Cruiser Tamandaré
Family records in Brazil indicate that Henry Burgum (1831) and Hannah had a daughter Elizabeth Burgum, born in Bristol on 29th February 1856, but I have yet to find a record of this. Those family notes go on to say that Henry was hired by the Brazilian Imperial Government to help with the construction of battleships at the Rio de Janeiro Navy Arsenal, a shipyard that belonged to the Brazilian Navy. Apparently some of his sons were also hired as engineers or technicians to do the same job. At the time there were no specialists in Brazil with knowledge in modern shipbuilding (battleships and steamboats) and, therefore, foreign technicians from Britain and elsewhere were employed to work at the Navy Arsenal.
The book "A História do Arsenal da Marinha do Rio de Janeiro" ("The History of the Rio de Janeiro Navy Arsenal") was published by the Brazilian Navy Records Service, and confirms that Henry Burgum (probably my great-great-grandfather) was an engineering officer - some sort of a steam engine specialist.
Another story about Henry Burgum - Henry and the Warrior